You Will Get INTERVIEWED in NEWSSTAND PUBLICATIONS and NEWSPAPERS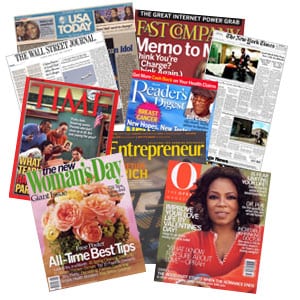 Competition is fierce among people trying to get their name and expert opinion into media publications. How have you set yourself apart from your competition to get those interviews in desired print publications and newspapers? At PR/PR, our goal is to ensure you, your company and brand, and your book / product / service establish "top-of-mind awareness" – so the media thinks of you FIRST!
Each day, PR/PR calls on hundreds of editors and reporters in the print media at local, regional, national and international levels. These relationships provide us with quick responses to our clients' broad range of interests and concerns.
PR/PR will help you grow your Print Media Footprint by:
Making calls to our established media contacts to get you quoted as an expert in stories they are writing
Making cold calls to writers to include your input (and name) in their articles
Monitoring lead generators that are used by writers in finding experts to quote their articles
Contacting you when we receive important feedback from anyone
By effectively establishing and managing your relationship with the media, your name and message will travel farther and faster throughout newsstand publications and you will more quickly equate your name with "expert" in the mind of the consumer.
Additional PR/PR Publicity Services:
Publicity Coaching | Article Placements | Print Media Interviews | Social Media Messaging
For a FREE consultation,
contact us or call (407) 895-8800.